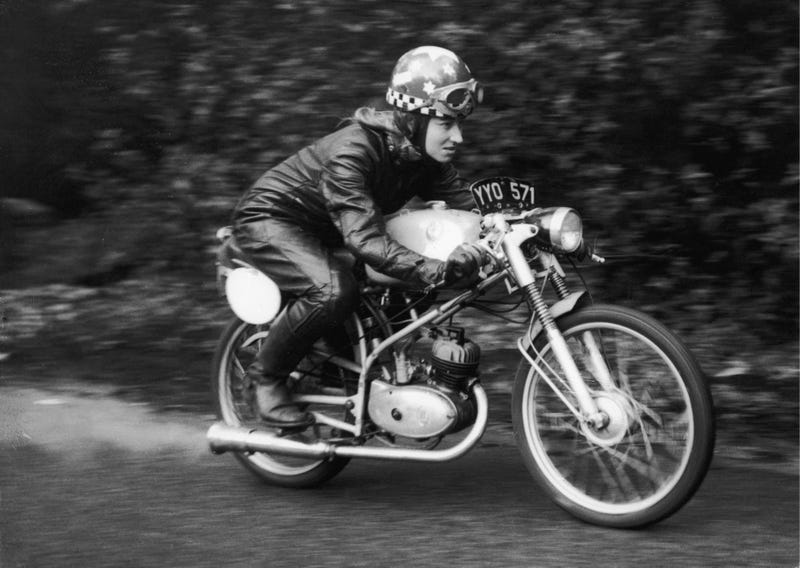 "Some women refuse to be a slave of routine," said Pathé News in 1962, the year Beryl Swain entered the Isle of Man Tourist Trophy race. "Mrs. Beryl Swain not only works an office job and holds down a home, but has an unlikely hobby—motorcycle racing. And," says the announcer, with some muted astonishment, "she's good at it!" As good as she was, she was only allowed to do it once.
Swain was a pioneer in the iconic, dangerous, 38-mile motorcycle race that has claimed the lives of hundreds of competitors over the years. She would have competed again, and she could have honed her skills, but it was that risk—and the risk of organizers looking bad if a woman was killed—that kept her from racing in it again, right in the midst of her enthusiasm.
"Women, the weaker sex, are muscling in on man's domain, practically no sport is sacred," said one reporter at the time.
In 1952, then-Beryl Tolman was a secretary at a shipping company when she met Eddie Swain, a motorcycle racer who ran his own shop. The two fell in love. They were married in 1959, and from the beginning, Beryl helped Eddie prepare his bikes for races all across England. One can imagine it did not take long for him to convince her to swing a leg over a motorcycle.
She found the experience exhilarating. Soon, she was entering races at Snetterton and Brands Hatch, in the small and maneuverable 50cc class, though she tried out some 500cc motorcycles. At Brands Hatch, she nearly broke the lap record for the much smaller-engined 50cc motorcycles.

"This was my first try for six months and my hands were frozen round the twistgrip," she told a newspaper in 1962, "but I was told I had managed to get within three seconds of the lap record for 50 ccs."
Alongside Margo Pearson, and Pat Wise—the first woman to round the Isle of Man TT course as a sidecar racer, in 1958—Swain was part of a precious few women in the sport, competing in a time when motorcycling wasn't considered "ladylike." Her status as the first solo female rider garnered attention and admirers. She was tough, glamorous, indefatigable.
"I have been doing all I can to give lady riders as much publicity as possible," she continued to the newspaper, just before she was due to compete. "Pat is not able to have an International License, and I believe that Margo is a little undecided at the moment."
The Isle of Man Tourist Trophy is the world's most dangerous motorcycle race and the deadliest motorsport event in history. Nearly 38 miles takes one nearly around the entire isle, through fast sweeping corners to dizzying elevation changes, climbing from sea level to 1,300 feet, through the mountains and through the streets of the town of Douglas. Since the race was first run in 1907, there have been 246 competitors killed, either in practice or in the midst of competition.