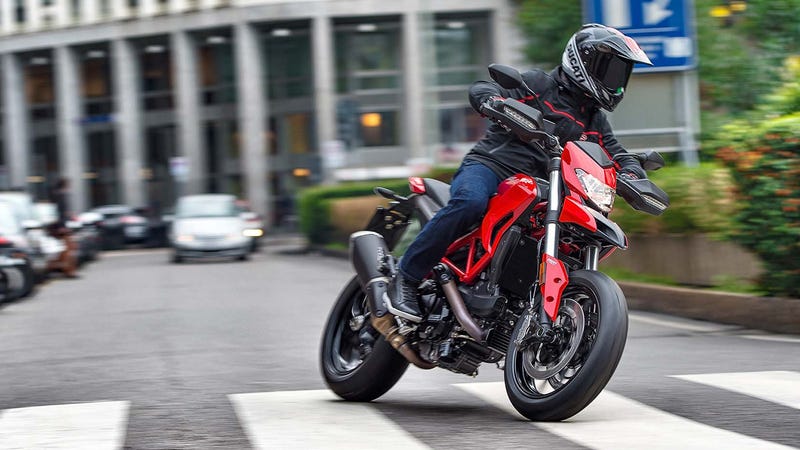 When I left the world of writing about cars and bikes and tech in the back of a garage in my boxers, one thing was clear: commuting was happening. And if I was going to endure that soul-sucking drudgery again, I would do it on two wheels. So after 9,000 miles rain-or-shine, here's what I think I have figured out.

First, some quick context: I started the new gig on the same day I moved into a new place. This wasn't exactly optimal. To amplify matters, the job was in San Francisco and living in San Francisco was out because, well, fuck living in San Francisco. I found a dark, isolated place in the woods and holed up there instead.
Making the commute more palatable is 10 minutes of winding backroads and the 35 minutes on 280, described as the "World's Most Beautiful Freeway" back in the '60s. Unfortunately, it's still a freeway in America, just with better views, sweeping turns, and more Teslas.

Two weeks of driving in and out of SF re-confirmed what I already knew: Riding would substantially improve my day. Unfortunately, the current bike wasn't exactly up for commuter duty. A plan was hatched* and full-time moto-commuting began.
The hour-plus blast north shrank to a predictable and enjoyable 45 minutes, and continues to be a highlight of every day. Eight months and 9,000 miles in –with a split of about 60-percent work commute and 40-percent "other"– what have I figured out?
A Top Case Is A Game Changer
Let me count the ways. With ~30 liters I can fit: a complete, neck-to-heel Aerostich Roadcrafter; or a helmet, gloves, and assorted detritus; or go shopping without doing irreparable harm to my back.
It's also (mentally) narrower than two side cases, and while it looks dorky and buffeting gets weird at the right speed with the right crosswind, it's been the best upgrade I've made.

The One-Piece Aerostich Roadcrafter Is, In Fact, Not Perfect
I know it's sacrilege around these parts, but I have found a personal – not technical – issue with the one-piece Roadcrafter. Getting in and out of it can be a drag when you just want to run across town and carrying it is an awkward, awful pain in the ass.
Imagine going out on a date and checking a monkey suit with the Maître D'. That was life before a topcase. But it's still not optimal for me. I'm thinking of getting a pair of Roadcrafter pants and wearing the leather jacket I prefer (at least during the dry months).