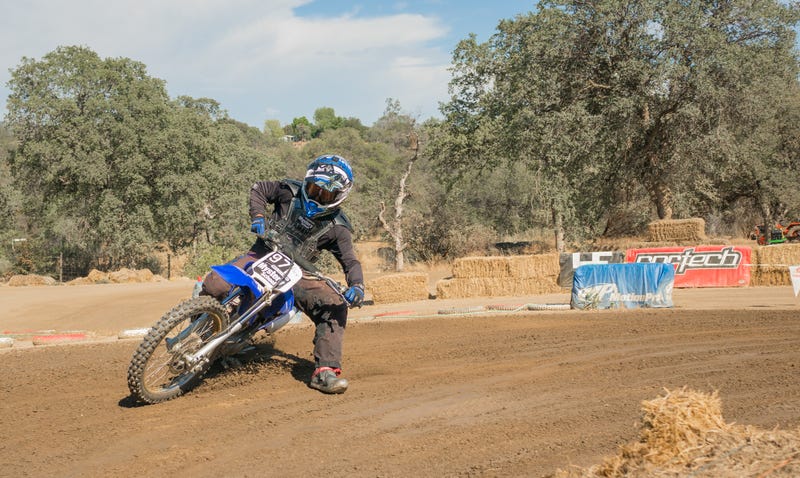 As motorcyclists, we're taught to love grip and to think of what we do on the bike in terms of available traction. But, as we've seen MotoGP, Supercross, and stunt riders prove, learning to not be afraid of sliding can help us ride safer and faster.
How can a rider learn to do that properly? Two words: "Mystery School." Welcome to the classroom of ex-racer Rich Oliver, where the lessons revolve around getting sideways like a champion.
(Full Disclosure: Rich wanted me to attend his Mystery School so badly that when I asked to come he gave me his mystery address, let me come to his mystery house, and taught me the mysterious ways of riding flat track. His wife also made me tacos for lunch.)

Learning the art of getting sideways was the reason Oliver, who raced in Superbike, Supersport, Battle of the Twins, Formula USA, and World Grand Prix, actually began riding flat track himself.
In the early 1990s, famed racer and team owner Kenny Roberts hired him for his Marlboro GP team and put him on a minibike on a small oval track to judge his abilities. Oliver, who had never spent real time in the dirt, couldn't stop crashing which meant Roberts kept him in the dirt until he could get it right.
Roberts' methods, as unusual as they felt, helped Oliver move from a top-five rider to a guy who consistently won races, later going undefeated in the 1996 and 1997 seasons. He, and even current riders like Rossi and Marquez, attribute some of their success to learning to be comfortable in and controlling a slide. When Oliver decided to retire from racing, he started a school devoted to teaching Roberts' ways.