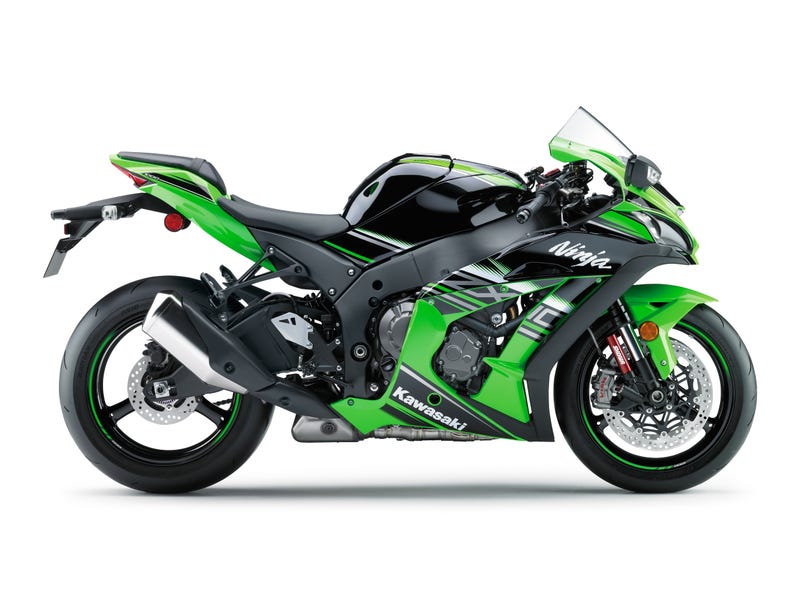 The superbike segment was put on notice this morning. Kawasaki may be a little late in the game, but they're here now and have a bike with world-class technology and 207 horsepower. Because fuckin' race bike.
The previous iteration of the Kawasaki was a great bike. Despite having a rudimentary electronics package in comparison to the European options, it was the only Japanese literbike included in comparisons until Yamaha released the 2015 R1 last year, simply because it made great power, had amazing power delivery, and had a well balanced chassis and great brakes.
The all new 2016 ZX-10R looks a lot like the previous version, but Kawi claim they've left barely a bolt untouched. Changes were made to the engine, chassis, suspension, fairings, electronics, brakes, and exhaust - and all were done at the requests of Tom Sykes and Jonathan Rea, who've been the two to beat in World SuperBike. For you laymen, WSBK is the other motorcycle racing series (not MotoGP) and is the one where they race production-based bikes, not prototypes. If anyone knows these bikes backwards and forwards, it's those two.

There's a TL;DR version at the bottom for those who don't wanna dive in. You're welcome.
The Engine
The ZX-10R has always made great power but its 998 cc inline four has never made its power as low as the Aprilia's V4 or Ducati's v-twin - so Kawasaki have tried to improve low end power while also increasing peak power (again, because fuckin' race bike).
The cylinder head and crank are all new and 20 percent lighter. This reduces engine inertia and allows the motor to spin up or slow down faster which obviously improves acceleration and deceleration, but has the added benefit of also helping the bike change directions more quickly as crank inertia can blunt steering speed.
The crankshaft also gets a new, lighter balancer, and the connecting rods have a new coating which reduces friction at high rpm.
The new cylinder head's intake and exhaust ports are now straighter and wider, allowing them to flow more air/fuel mixture into the combustion chamber. Both the intake and exhaust ports are now polished, which helps improve flow, and the valves are now titanium for weight reduction.
Kawasaki has revised the cam profiles in the engine to better optimize valve overlap, and the pistons are now shorter, lighter and have revised crowns to help increase power at high RPM. To help with engine rigidity and reliability, they've wrapped those pistons in cylinders whose walls have been thickened.
The airbox is now 25 percent larger and has a filter that has 60 percent more surface area. Anyone who's done an airbox mod on a bike knows what a massive difference this can make with engine responsiveness and Kawasaki claim this improves corner exit acceleration greatly.
All of this equates to a claimed power output of 207 HP at 13,000 RPM and 84 foot-pounds of torque at 11,500 rpm.
| | | | |
| --- | --- | --- | --- |
| Aprilia RSV4 | BMW S1000RR | Ducati 1299 Panigale | Yamaha R1 |
| 201 hp @ 13,000 rpm | 199 hp @ 13,500 rpm | 205 hp @ 10,500 rpm | 197 hp @ 13,500 rpm |
| 84.8 ft-lbs @ 10,500 rpm | 83 ft-lb. @ 10,500 rpm | 106.7 ft-lbs @ 8,750 rpm | 82.9 ft-lbs @ 11,500 |
The Transmission
For the 2016 ZX-10R, Kawasaki are using a closer ratio transmission, which they feel make it ideal for track riding. Second through sixth have all been shortened to improve corner exit acceleration. With the slipper clutch, Kawasaki claim the closer ratios also give more stable downshifts.
The clutch is also now 130 grams lighter, thanks to a thinner primary gear. A new dry-film lubricant has also been applied to the gears to reduce friction, which should improve shifting speed and reliability.
The 2016 ZX-10R also gets a new standard Kawasaki Quick Shifter (KQS). It uses the same contactless sensor as the H2, but only works on upshifts.
The Electronics
Oh boy, Kawasaki have a whole host of electronics they've thrown at this bike—which means we're about to dive into acronym hell. All are built around Bosch's incredible Inertial Measurement Unit (IMU), which measures five axis of movement and calculates a 6th. This is the same little magic box that made it impossible for me to low side a Ducati Multistrada in the rain.