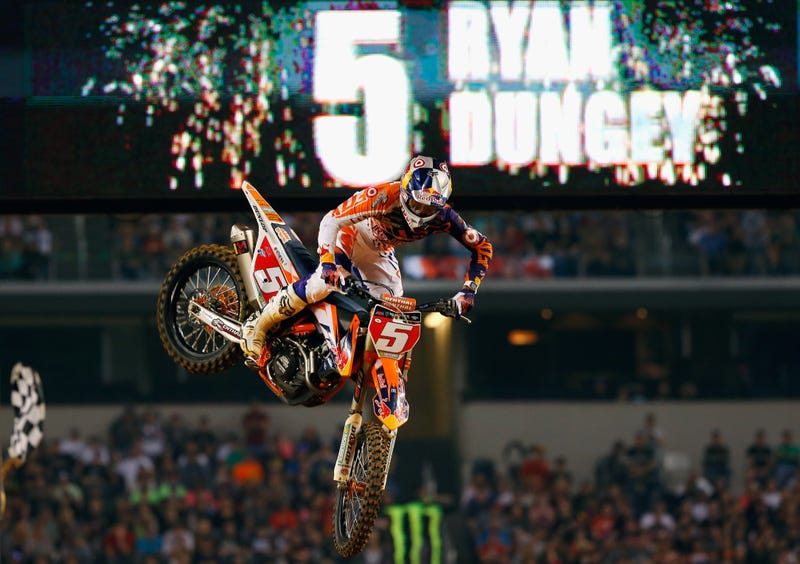 Supercross is the most popular form of motorcycle racing in the U.S., and the 2016 is set to be the most televised season to date with all the races making their way onto TV screens on computers, with several races hitting FOX Broadcast Network. Here's how to watch it!
For some reason, my DVR likes to torment me and refuses to just find Supercross and record it for me. So, while it's awesome that Supercross will make its way onto FOX proper (their broadcast channel, not cable channel), it does make finding it every Saturday night a little more difficult.
Additionally, and more annoyingly, some of this year's races will start on Fox Sports 2 for the first hour, and then move to Fox Sports 1. Yes, that's as dumb as it sounds and yes, your DVR will blow it.
This season, which starts this Saturday, January 9th, will 14 of the 17 race season on Fox Sport 1, with the April 16th and April 23rd races getting the bump to Fox Broadcast, and the March 19th race on Fox Sports 2.
For you cord-cutters and travelers, all of the races will also be streaming on the FOX Sports Go App.
As I've already stated countless times, Supercross is my favorite form of racing. I wrote an article called "I'm Going To Spend All Fall Trying To Get You To Love Supercross," which I promptly abandoned/forgot about once we found ourselves in the biggest new motorcycle news seasons of recent history and then brands realized they want Lanesplitter at all their press launches for new motorcycles. But, go back and read it for some info on why you should love Supercross and some of the interesting players this year.
2016 has the most stacked field possibly ever, and this season should be one that has multiple people fighting for the lead all season long.