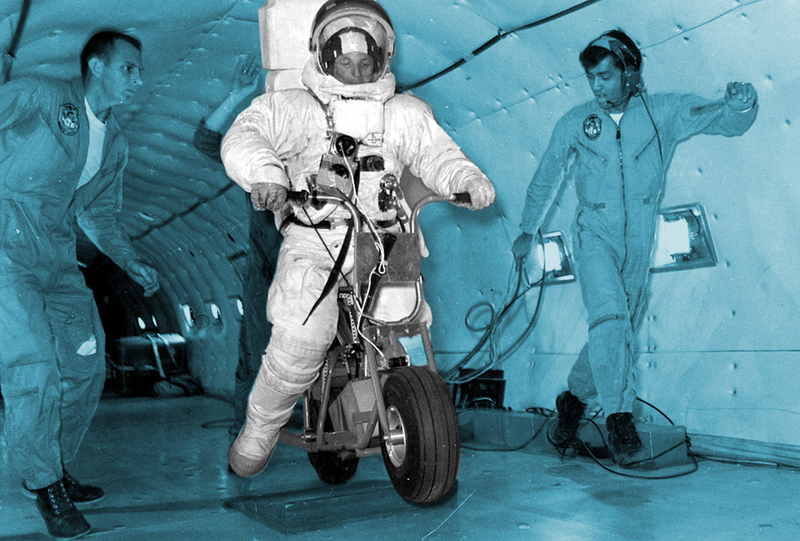 Take a moment and imagine an astronaut riding a motorcycle on the moon. Congrats! You will never imagine anything cooler in your entire life. What's surprising is this nearly became a reality.
I was alerted of the existence of the "lunar motorbike" yesterday by one of Jalopnik's specially-trained carrier pigeons with a printed out copy of this tweet tied to its leg:
Neither I nor fellow Spacelopnik correspondent Jason Torchinsky had ever seen this thing before, and I quickly set myself on finding an official government record of its existence.
I was unable to find one.
That is not to say there is no information on this vehicle. A number of secondary sources discuss its existence. The most trustworthy is likely the book Apollo: The Lost and Forgotten Missions, linked out by this NASA Spaceflight forum back in 2014. The book gives the following brief account:
Various modes of transporting astronauts across the lunar surface were evaluated for the Apollo programme. Here a suited engineer evaluates a lunar motorbike in Building 29 at MSC. He is attached to a hardness device that removes 5/6 of his Earth weight and that of the bike, allowing an accurate 1/6-g evaluation of the device. Other tests were performed in flying the KC-135 aircraft in parabolic curves to reproduce a 1/6 gravity environment in short 20-30-second bursts.
The lunar bike was not alone as a never-made-it mode of lunar transportation. We had a couple different vehicle proposals that got scrapped, including a fully-sealed and large-scale MOLAB that NASA actually favored back in 1963.