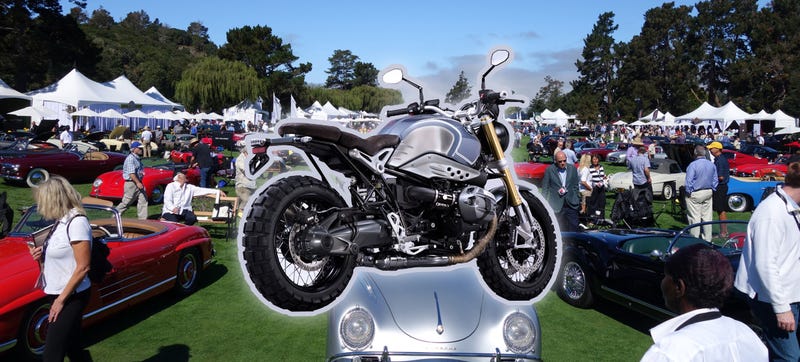 Pebble Beach and the festivities that make up Monterey Car Week have gotten totally out of hand. I'm counting over 50 different events, not including private shindigs and ultra-hyper-exclusive reveals. Add in tens of thousands of people, and it's impossible to get around – let alone park. Bike is the answer.
I've been doing Pebble for the better part of a decade, and this year I decided to make it a two-wheeled affair. This is not without its logistical challenges, but the advantages made up for it. And I learned plenty for next year.
I live in the Bay Area, so the ride down was an easy two hours. But as always, choosing a motorcycle as your lone form of transportation comes with compromises, all of which are exacerbated by the events and environment on the Monterey peninsula.
First, there's the not-so-small issue of packing. I ride a ratted out SV with no top case or saddle bags, so I had to shove everything in a small pack strapped to the seat (a Bell Helmet bag) and my always-on-me backpack (a waterproof Arkiv Field Pack from Mission Workshop). For a weekend at the track, this setup is perfect. For a highfalutin five day affair that involves wearing a suit and tie on a semi-frequent basis and shaking hands with execs, things get complicated – and wrinkled.
Somehow I stuffed a fabric steamer into the Bell bag knowing that the Airbnb we booked probably wouldn't have an iron. It didn't and the steamer worked well. One problem solved.
For getting around, I should've suited up in my Aerostitch Roadcrafter one-piece. I could where a tux in that thing, be totally protected, and look crisp and clean on arrival. But the problem is where to stash it. I only went to a few places that had a coat check, and even then it would've been awkward to hand a massive suit with acres of armor to the tween manning the desk. Next year I'm buying a cable and lock to tie it to the bike, and that also means the helmet won't have to come inside.