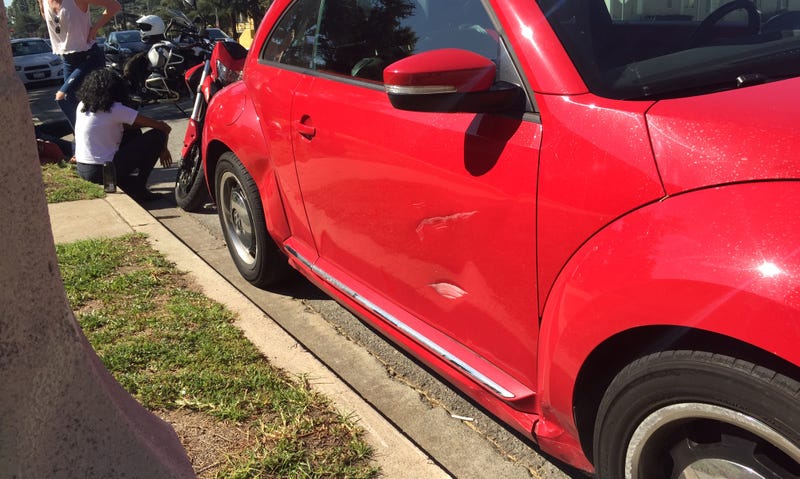 If you say you've never crashed, many people will say that you just haven't crashed yet. Those people are assholes, but they're also right. This past weekend, I got my number called—and I lived to tell the tale.

Sinuhe Xavier, my good friend and the main man behind The Mighty Motor, and I had just finished an amazing lunch at an amazing hole-in-the-wall torta shop in Los Angeles the size of a broom closet. After I grilled him about the new Tacoma (he just shot that Tacoma Pro video) and we discussed our next adventures, we parted ways to head home.
I made a right on Hillhurst and then another right on Los Feliz, a busy boulevard with six lanes and a center turn lane which would take me to the freeway. During certain times of the day, including the time I was riding, the outside lanes are for parking instead of driving.
Look at the picture above and note that the cars in the outside lane are skewed to the far right of the lane, because they're parked alongside the curb.
So, instead of lanesplitting between the two lanes of moving traffic (lanes one and two), I was riding in the third lane, sharing it with the row of parked cars. While there are still risks of one of the parked cars pulling into traffic or opening a door, this is generally a safe place to ride as long as you look for people inside the cars. It's legal too, as it's still technically lanesplitting.
I was riding along and both lanes of traffic in my direction were stopped in bumper to bumper traffic. I slowed to around 15-20 miles per hour just in case, but had a really wide lane and felt pretty safe. Then a red Volkswagen Beetle crossed all the lanes of eastbound traffic to attempt to make a U-turn to park in the third outside lane. By the time the driver was in my lane and I saw her, I was less than a car length from her and didn't have time to stop.

My memory of what happened there is a little foggy but, after looking at the marks on the ground, I'm pretty sure I tucked the front and hit the ground before I slid into the door of the bug. I was riding a 2015 Ducati Hyper in preparation for the launch of the new Hyper 939 which I'm attending in a few weeks, and really only remember thinking "I'm about to crash," and then sitting there with the bike on top of me while lying next to her rear tire.
A quick overview of my limbs and nothing seemed broken, but my legs were incredibly sore and ankle was getting stiff. Since we were already in a parking lane and not blocking traffic, I shut the bike off and took a minute to sit on the curb and catch my breath.
The girl jumped out of her car to make sure I was okay, and we exchanged information and had the police come to take a report.
Sinuhe came back and said his neighbor had a truck and would come help with the bike. When Mike arrived, I noticed he was wearing a Socal Supermoto shirt and, when the first words out of his mouth were "I thought Wes was the one who crashed!" I knew I was amongst friends and finally felt safe. Interestingly enough, it was actually Mike who was with Sinuhe when he was first on the scene of that motorcycle accident up on Angeles Crest.