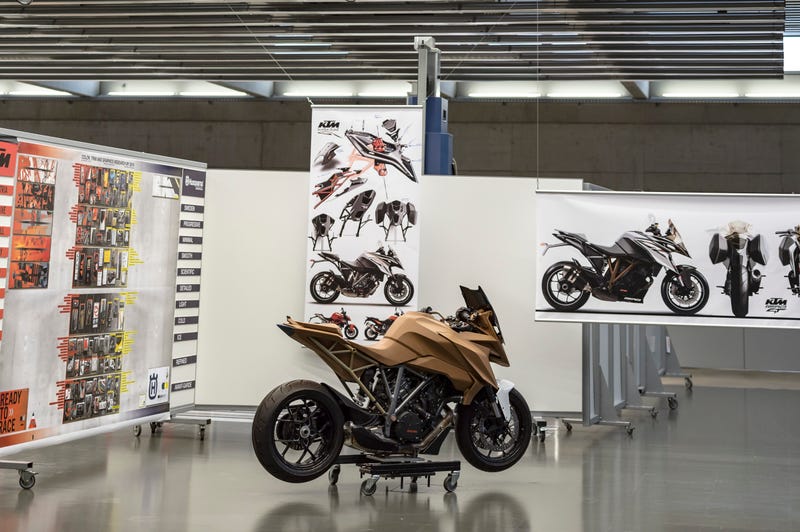 In 1991, Austrian motorcycle manufacturer KTM was forced into bankruptcy and a split into four independent companies. By 2015, it had fully risen from the ashes to become the best-selling European bike brand. How did that happen? One word: KISKA.
In a motorcycle landscape full of companies trying to fill the middle ground and produce all sorts of hybrid-purpose bikes, KTM has gone the opposite with race ready dirt bikes, bat shit crazy naked sportbikes, and long distance worthy adventure bikes—which makes their success and rise over the other European brands even more interesting. No fluff, no middle ground, no scramblers, and no full size toned down versions.
And while their "best selling brand in Europe"claim bit caught me off guard, it turns out they're aren't getting creative with the numbers. KTM claims a 2015 sales of over 180,000 units while BMW claims 136,963 units, Ducati claims 54,800 units, and Husqvarna 21,513 units. I couldn't find 2015 numbers for Triumph, but they sold 54,432 in 2014.

To find out how they pulled it off, I went to KTM's first ever design and technology event at their headquarters in Mattighofen, Austria. That's where I found out the secret behind KTM's success lies with one man and his tiny design firm.
Who or What is KISKA?
I first saw the name KISKA alongside Husqvarna's show-stopping Svartpilen 401 and Vitpilen 401 on display at the 2014 EICMA show in Milan. I found those two bikes more desirable than any others at the show, which should have been my first clue that they weren't created by a custom bike builder or through a one-off collaboration with Husqvarna (or rather, KTM, which bought Husky in 2013.)