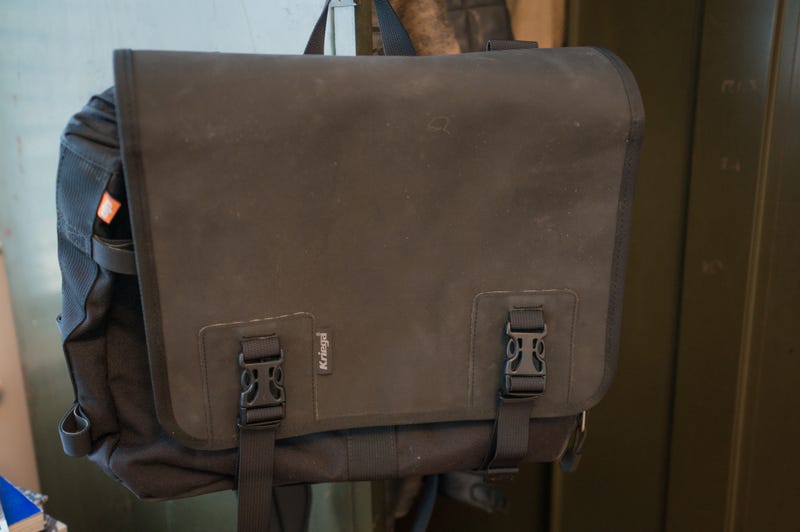 Anyone who uses their motorcycle for more than just sport riding knows how difficult it can be to find a good way to take a few items along for the ride. I spent the past few weeks using Kreiga's new messenger bag to see if it's up to the task.
Whether it's a computer or change of shoes for work, a camera or clothes for a little trip, or just a clear visor and hoodie for the night's ride home—nothing really seems to nail the job well. Backpacks are tough to get on over armored jackets and never seem to be built with daily use in mind, and messenger bags often flop around on your back and interfere with operating a motorcycle.
People say it's hard to find a good pair of riding jeans, but a good pack is the unicorn of motorcycle gear.
If you've followed Wes or I for any amount of time, you'll know we're both huge fans of a little brand called Kriega. Their backpacks have this genius little system which allows them to distribute the weight of the pack evenly over your torso. This greatly reduces the perceived weight, as well as the toll it takes on your body - making their packs our favorite for any sort of a trip.
The problem with Kriega backpacks has always been that they're a.) so cavernous inside that your MacBook Air will fly around unless you toss some clothes in their to hold it still and b.) they look sort of like parachute packs.
I wore one when I rode to work while I was teaching and kids always asked if I jumped out of a plane to get to work. Saying yes made me even cooler in their eyes, but I can see how people in an office environment might want something a little more reserved looking.
The Specs That Matter
The Kriega Messenger Drypack measures 12.5 inches tall by 15.75 inches wide by 5 inches deep, which gives it a storage capacity of 16 liters. It's built to last, with 420 denier ripstop nylon on the low impact areas, 1,000 denier cordura on the chassis of the bag, and something called HYPALON for base and outer flap.
It's single strap uses Kriega's CNC 6061-T6 alloy slider, and the flap uses two 25 mm Acetal quick release buckles. If all of that sounds like some crazy science mumbo jumbo, you're right as they're all aircraft grade parts. It also comes with a waist strap, which isn't aircraft grade but is very helpful.

The bag uses a rolltop design, which is how Kriega can claim it's 100% waterproof. The front of the bag has a vertical zipper which opens into a pocket that runs the full length and height of the bag. There is another large pocket in the flap of the bag, which is covered in Kriega's coated mesh.
You can strap up to two US-5 Drypacks onto the chassis of the bag, under the flap, if you need the extra storage or compartmentalization. For those of you who want a little something on the front of the bag, it will accept the Kube Pocket on the front strap.