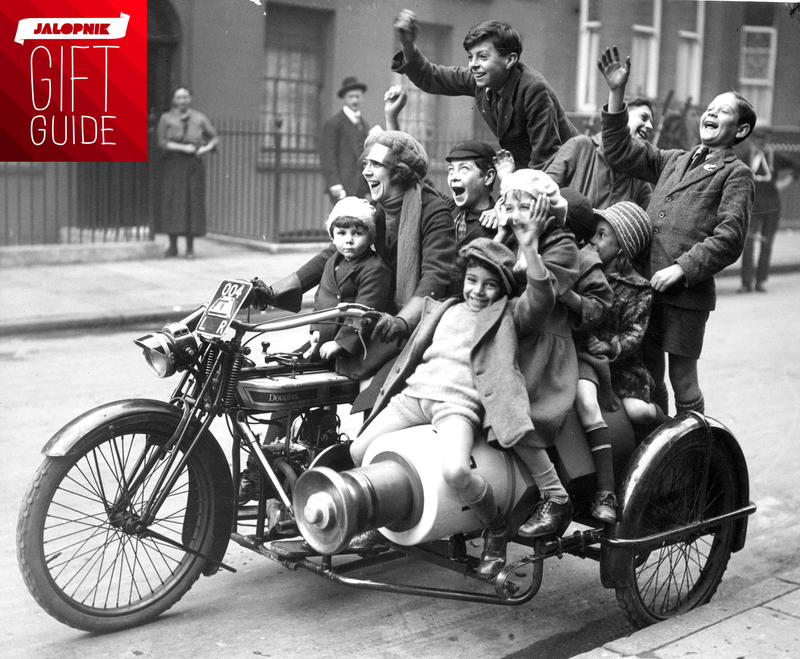 Pumpkin spiced lattes and holiday music blaring at my local Whole Foods means it must be that time of year again when you do the shopping for the people you love, as well as a little shopping for yourself on the side. Make sure you, or the motorcyclist in your life, have these items come this holiday season.
I'm a massive motorcycle gear geek, and I love lusting over the latest and greatest helmet or GPS device or airbag suit—but often it's the little things that impact our experiences on the bike more. Here are some of the best little things that you'll wonder how you lived without.

I'm a bit of an evangelist when it comes to ROK Straps. They're the sort of item you think you're fine without, until you buy them and wonder why anyone would ever choose to use a normal net or tie down for securing something to a bike. The pass-through loops on either end mean they work far better than hooks to attach to the bike, and the mix of elastic and webbed sections make them incredibly strong but also easy to tighten well.
I prefer the longer, wider 18-60 inch straps linked, but they also make smaller/narrower ones should you never really need to secure large items to the back of the bike.
---
This next item can also be filed into the "how have they not come up with this sooner?" category. All other motorcycle/atv tie downs pale in comparison to the wonder that is the ProTaper tied down. The end that attaches to your vehicle us a carabiner style enclosure, and rotates at its connection point which assures they never come undone or get twisted. On the other end, there is a soft tie down built attached to the hook, and they even throw in a little velcro wrap to secure the extra portion.
Many people are fans of the ratcheting tie downs, but those give you the ability to over-tighten a bike and blow out your suspension. With the big loops at the end of this, you have plenty of leverage to get the bike secured tightly without risk of damage to the bike.
---
Getting your motorcycle stolen might be the worst feeling in the world. All those fond memories and bits of personalization gone, just like that. Motorcycles, unfortunately, are incredibly easy to steal for such an expensive item, but there's a lot you can do to much it much more difficult on thieves.
The XENA XX15 pairs a brake disc lock with an incredibly loud alarm should someone try and tamper with your motorcycle. Additionally, it's shape makes it so thieves don't have anywhere to use bolt cutters - forcing them to have to lift your bike into a truck while the 120 dB alarm sounds.
---
The ability to hear is sort of important, especially if you ride motorcycles. While putting things in your ears to dampen the sound seems like it will make you hear less, it actually limits the ambient noise so you can hear important noises better. On top of that, it helps keep you from losing your hearing (the sound levels in a helmet at freeway speed reach 90 decibels).
These ear plugs are the softest and best I've ever worn, and they do a great job at limiting unwanted sounds. For $18 bucks, this box of 200 pairs means you won't have to worry about losing them ever again and you'll have plenty to give to your friends once you realize how great these things are.
---
Butler motorcycle maps are one of the coolest things I've come across in my career as a motorcyclist, and it's amazing how many good roads are in your backyard that you might not know about. The guys at Butler have spent countless hours researching and riding so you can always take the best route.
Butler maps highlight the best riding roads in the country, and are sold by geographic region. They're waterproof, use an easy-to-read rating system to tell you just how great the road is, and include little written descriptions of many of the routes. I bought the one for my home territory of Southern California, and often buy new ones as I plan trips to make sure I don't miss out on anything.
I take an external battery pack with me pretty much everywhere I go. Whether I'm on the road, on a trip, or just running errands around town or hanging with friends–it seems like my phone is always dead hours before I'm done for the day. One or two of these packs will last me an entire weekend of phone/tablet/camera/gopro use, or just let me lay on the couch comfortably with my phone without having to be near an outlet.
Many people like phone cases like the Mophie, but those a) can only be used with your phone instead of everything that needs power and b) become obsolete if you get a new phone that changes shape. This Anker unit comes as the top recommendation from our friends over at theWirecutter.com, and those folks are never wrong.
---
If you spend any large amounts of time on a motorcycle, having your cell phone mounted in front can you make you life much, much easier. Whether it's knowing if you should answer that call coming through your bluetooth headset or trying to follow turn-by-turn directions, having that information referenceable is well worth the $50 price of admission.